Learn the basics of Facebook Ads Automation with Kitchn. Set up Facebook Ads Automations from pre-built templates or set up custom
Keeping your Facebook ads fresh and relevant can be challenging. Setting up new creative tests from scratch in the Ads Manager can feel like an uphill battle every time you do it. Fortunately, automation makes things easier for advertisers, which is why so many marketers use it as much as possible. If you are a paid social marketer working on Facebook Ads, you probably think about Facebook Ads automation every week. And as performance marketers ourselves, we understand why! Managing multiple campaigns or ad accounts is time-consuming. And let's be honest, there are more exciting things to do than uploading videos or copy-pasting ad copy.
If you're reading this, you probably have some interest in using automation to expand your paid social efforts and save time in the process. You'll find three examples of ways to use automation to make things easier on yourself when it comes to advertising on Facebook. Each one will help reduce the stress of setting up your next campaigns, managing active ads, and monitoring performance.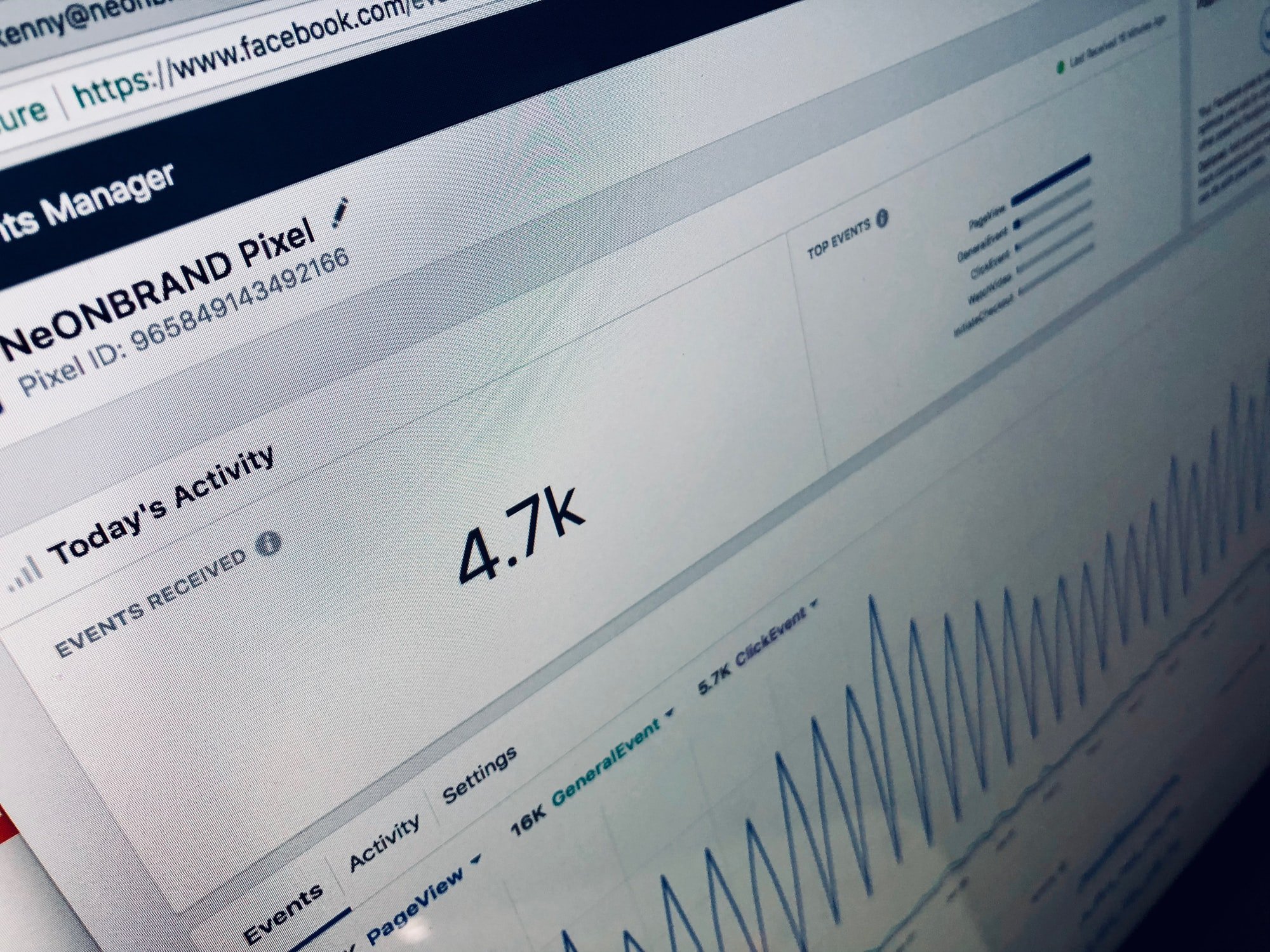 Facebook Ads
Create Facebook ads straight from a spreadsheet
Creating Facebook Ads from a spreadsheet is probably the most popular automation among Kitchn.io users. However, when it comes to Facebook Ads Automation, most marketers think of bid or budget changes, although campaign creation takes way more time than campaign management. Ask your juniors!
We ran tests with some of our clients to see where they spend most of their time running Facebook Ads. First, on average, a paid social specialist spends almost 40% of the time uploading ad creatives into Facebook Ads Manager and copy-pasting ad copies, headlines, and links to set up new ads! That means highly-skilled marketing specialists can spend 16 hours a week clicking buttons and doing low-value tasks. Imagine they could be brainstorming ad creatives or running performance analysis instead. It's easy to lose focus and motivation when non-value, tedious tasks make up almost half of your week.
Kitchn's Bulk ad creation for Facebook ads will speed up the setup and management of your campaigns. You'll just have to fill out a simple Google spreadsheet with ad settings like images, videos, text, headlines, CTAs, and links to the website or app. Kitchn will ensure that all ads are uploaded to the selected or newly created campaign by regularly checking for new rows in the template.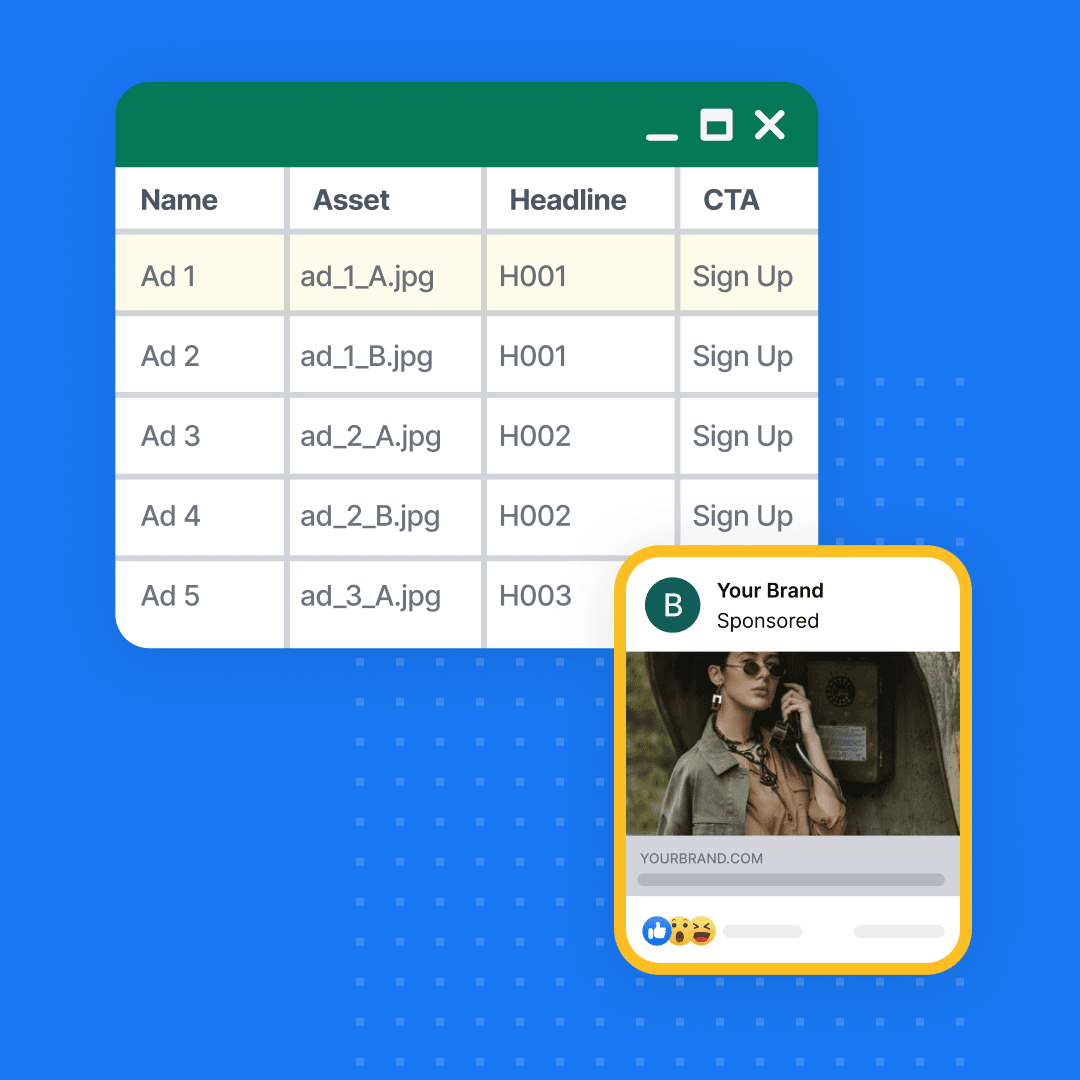 Kitchn.io Bulk Ad Creation - transform rows into ads
With our Bulk Ad Creation, you don't have to download creative assets to your computer first to upload them back up to Facebook Ads Manager. Instead, you can insert a link to a file that you want to use for a specific ad to upload it. Kitchn will upload this file to Facebook and make it available for a selection inside a Google Sheets template.
Setting up creative tests can be as easy as copy-pasting rows in Sheets. Almost everyone knows how to do it, there is no need to onboard your team on new fancy software or change the process. You can modify Bulk Ad Automation for your unique business process and customize it accordingly.
Automate campaign management with rule sets
When you manage your campaign manually, it's very easy to miss an adset with a higher CPA or immediately recognize a good CPC trend. Moreover, you probably don't want to spend your weekend thinking about a potentially overspent budget or a lost scaling opportunity. Thankfully, you can avoid these scenarios by setting up a scaling plan in advance. By identifying when the best time is to scale and making sure you have the step-by-step plan, you can easily transform it into a set of rules to instruct the algorithms on increasing or decreasing the budgets.
Using marketing software allows you to set up alerts, or even actions, based on KPIs on your campaign, adset, or ad level. For example, you can set up an alert for the CPA adset that will notify you in Slack or via email when it exceeds a certain threshold. For the ad level, you can set up an alert that will simply pause an ad when CPC, CTR, or any other metric dip below a certain value**.**

Example of Kitchn Slack Notification based on a spent trigger
Facebook Ads Manager allows you to create rule sets and schedule campaign optimizations. There are certain limitations, however. For instance, you cannot use custom metrics or data sources other than Facebook. So if you are optimizing based on Google Analytics or your backend data - Facebook rule sets will not be much of a help. It's also impossible to set up cross-account rules and adjust them from a central hub. With Kitchn.io, you can connect multiple data sources to set the rules up. If you are optimizing your campaigns based on custom data, you can integrate with Google Analytics or even with Shopify!
Notify yourself on Slack about significant campaign developments
Want to increase the transparency of Facebook Ads performance? The Slack notifications recipes are a great way to do so!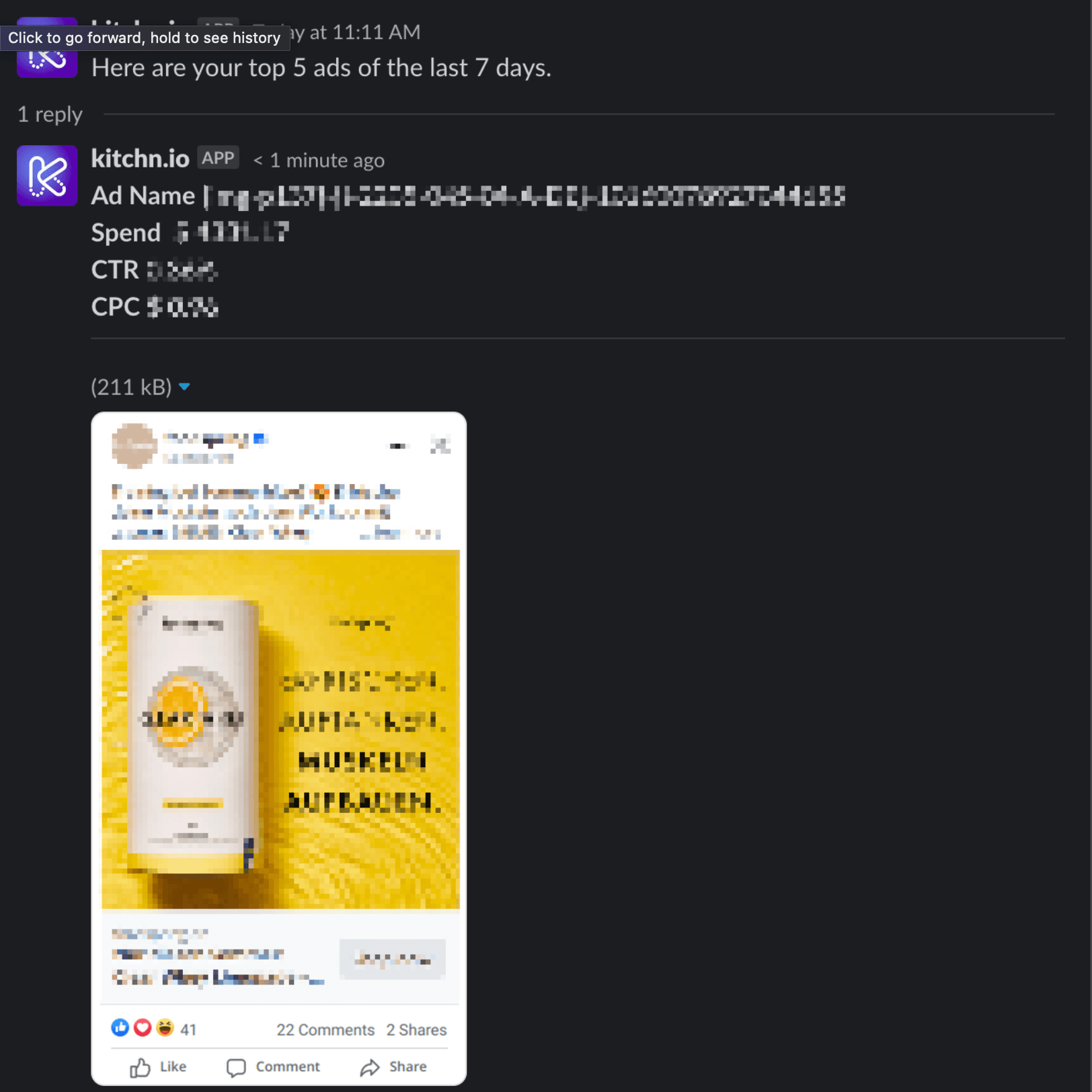 Example of Kitchn Slack Notification for Creative Reporting
Kitchn.io has a Slack integration that allows you to regularly send performance updates to your team members into a preferred Slack channel. This can be a great way to keep your team informed about what's happening in the ad accounts and what's expected of them. You can set up a regular schedule or send one-off messages if we detect something suspicious (remember the rule sets?). You can also set up budget pacing or goal-tracking reminders to remind yourself and the team about the progress. So whenever someone asks you about performance development, you can refer them to a Slack report.
In addition, you can automatically share creative testing learnings as soon as you get the test results with your creative team. Kitchn provides you with a set of automations that will send top ads to your Slack with a Screenshot of an ad. Not everyone can make sense of a spreadsheet full of data, especially the teams that don't deal with much analytics. Sometimes all you need to attract attention is a visually appealing report.
Bonus: Get an understanding of how the Facebook Ads API work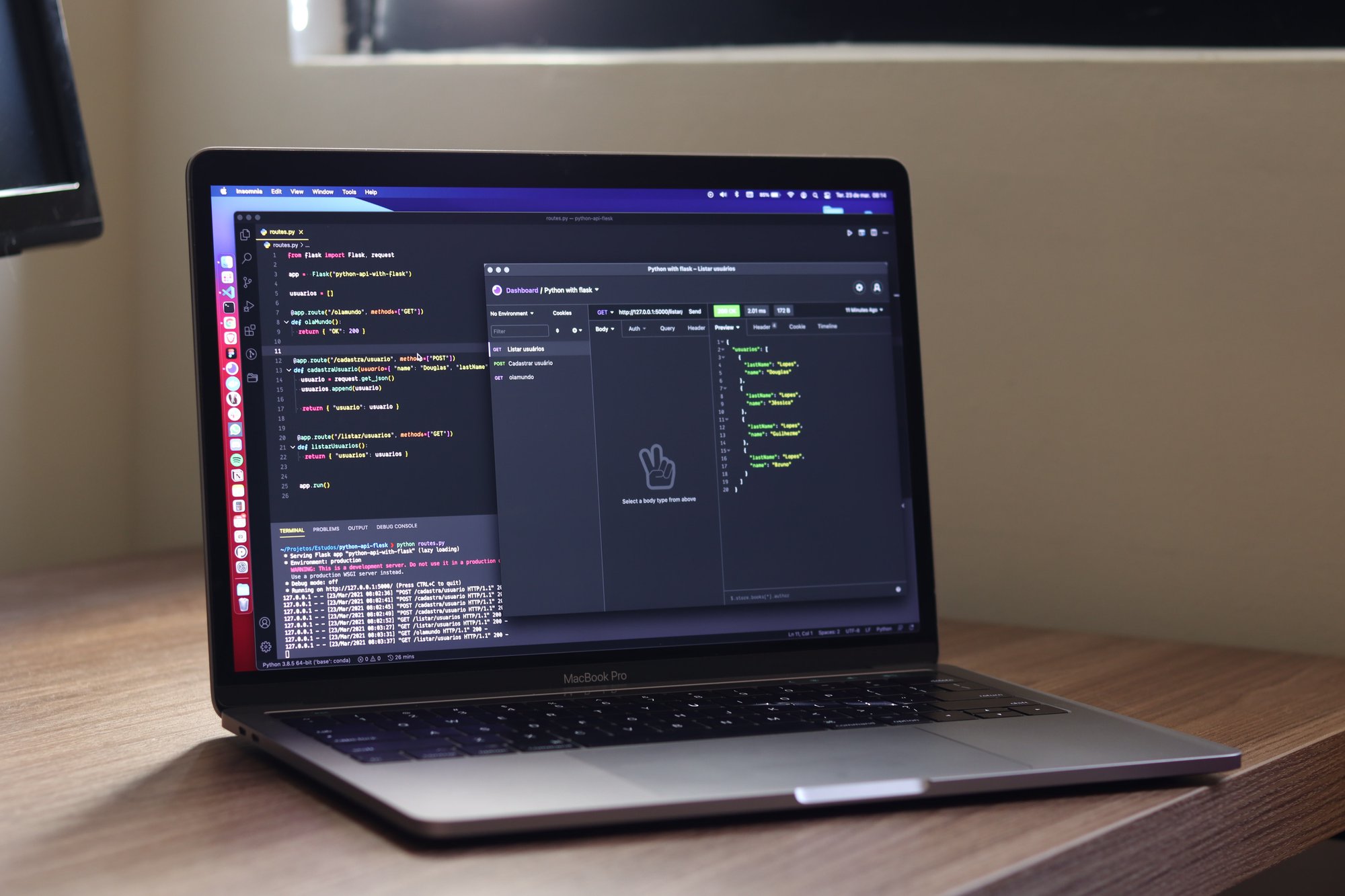 Facebook API call
As a bonus, learn Facebook marketing from the inside out! To learn more about Facebook Ads Automation, you should not skip the Facebook API part. Generally, you can do the same things via an API as in the Facebook Ads Manager and, most of the time, even more. All automation software is built on top of the Facebook API. This is precisely what you will learn with Kitchn.io. We will teach you how to make an API call and pull any data. Much more data is available via API than in the Facebook Ads Manager!
The Facebook API allows you to extract data, make changes to your ads and programmatically create campaigns. That means you can build on your existing processes, making them more efficient and less manual! For example, if you have an external reporting tool based on which you optimize your campaigns, you can send this data to a Sheets and push changes in bulk to Facebook Ads Manager via the spreadsheet. In addition, you can combine Facebook's and 3rd party data in a spreadsheet and trigger changes from the spreadsheet to Facebook via Kitchn.io.
By the way, we recently released a Facebook API tutorial for beginners. Check it out if you are starting to play around with it!