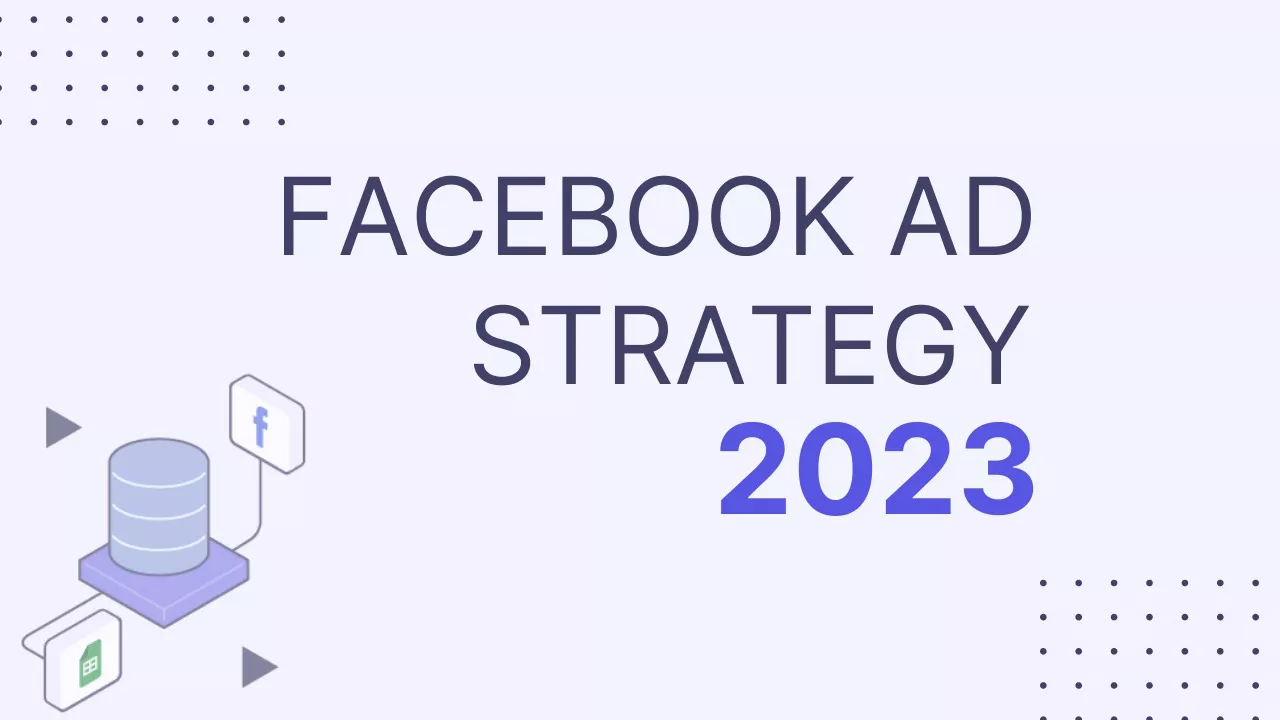 Are you looking to take your Facebook ad strategy to new heights in 2023? Then this is the guide for you! Here, you won't read about tips & tricks on how to improve your Facebook ad campaign ROAS - we leave in the past.
Instead, in this guide by Kitchn.io, you will learn how to build a robust and timeless paid social system focusing on processes rather than trends. Trends come and go, and it is essential to identify and incorporate them into your strategy at the right time. What's also valuable is the tools and knowledge that will help you create a winning Facebook ad campaign that stands the test of time.
Facebook Advertising in 2022
In 2022, Facebook ads advertising saw several significant changes, including iOS14, updates to its algorithms, and the introduction of new ad formats. These changes significantly impacted businesses and marketers who use the platform to promote their products and services.
Facebook ads creative
In 2022 we saw a drastic shift toward creative strategy. If before you could get around testing a couple of ads every month, now, it's nearly impossible to drive results without a robust creative Facebook ad strategy. One of the biggest updates to Facebook's advertising algorithms is an increased focus on user experience.
Ad campaigns algorithm change
To improve the overall quality of the content users see in their feeds, Facebook changed its algorithms to prioritize posts that were more relevant, engaging, and useful to users, focusing on the community and friends' posts.
Businesses and marketers had to be more strategic in their ad creative testing to ensure that their ads were being shown to the right people and were effective in driving conversions.
Getting new customers now is not just a matter of detailed targeting or landing page optimization but figuring out an effective Facebook ads strategy to build a perfect ad that will be relatable for the specific audience.
New video ads format
In addition to the algorithm updates, Facebook also introduced a new ad format - Instagram Reels. Even though it was initially rolled out in the second half of 2021, it only gained widespread popularity in 2022.
Instagram Reels allowed businesses to create vertical, full-screen, immersive ads that rapidly became highly popular among users. Reels are one of the few ad formats that effectively drive engagement, helping brands emotionally connect to the target audiences. As a result, many businesses quickly adopted it as part of their advertising strategy.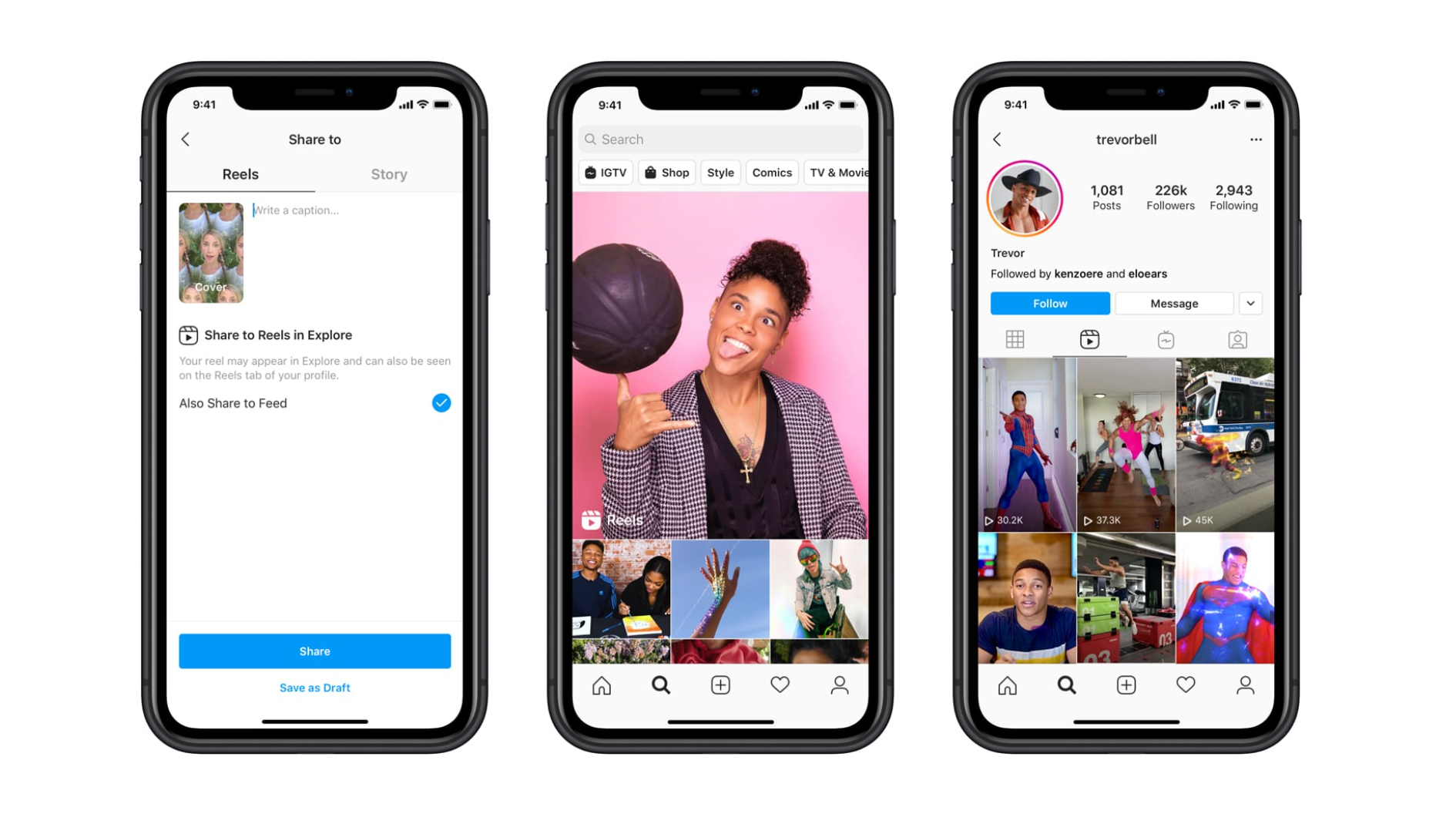 Instagram Reels: Example
Change in the user behavior
The behavior of social media users has undergone significant changes in recent years, and these trends are expected to continue in 2023. One major shift has been the increasing use of social media for e-commerce and online shopping.
As more and more consumers turn to social media platforms to discover and purchase products, businesses are using these platforms to showcase their offerings and drive sales.
In addition, there has also been a rise in the use of social media for content creation and sharing. With the widespread use of smartphones and video-editing tools, more people are creating and sharing their content on social media, from short videos and live streams to blog posts and podcasts. This has created new opportunities for businesses to connect with their audience and build brand awareness through engaging and authentic content.
To summarise, it's more "all about content" than ever before. If you want to succeed with Facebook ads, you need to invest in a content-producing machine and the processes around it, and your product needs to fit natively into the social media platforms and play well into the general mood. So let's talk about which processes you want to focus on to run Facebook ads successfully.
Facebook ad strategy 2023
Creative testing
When it comes to Facebook ads, ad creative is a crucial factor in determining the success of your campaigns. In most cases, your ad creatives will determine the delivery of your ads. Since Facebook's algorithm prioritizes showing relevant content to users, the more relevant your ad creative is to your target audience, the lower your Facebook ads cost will be.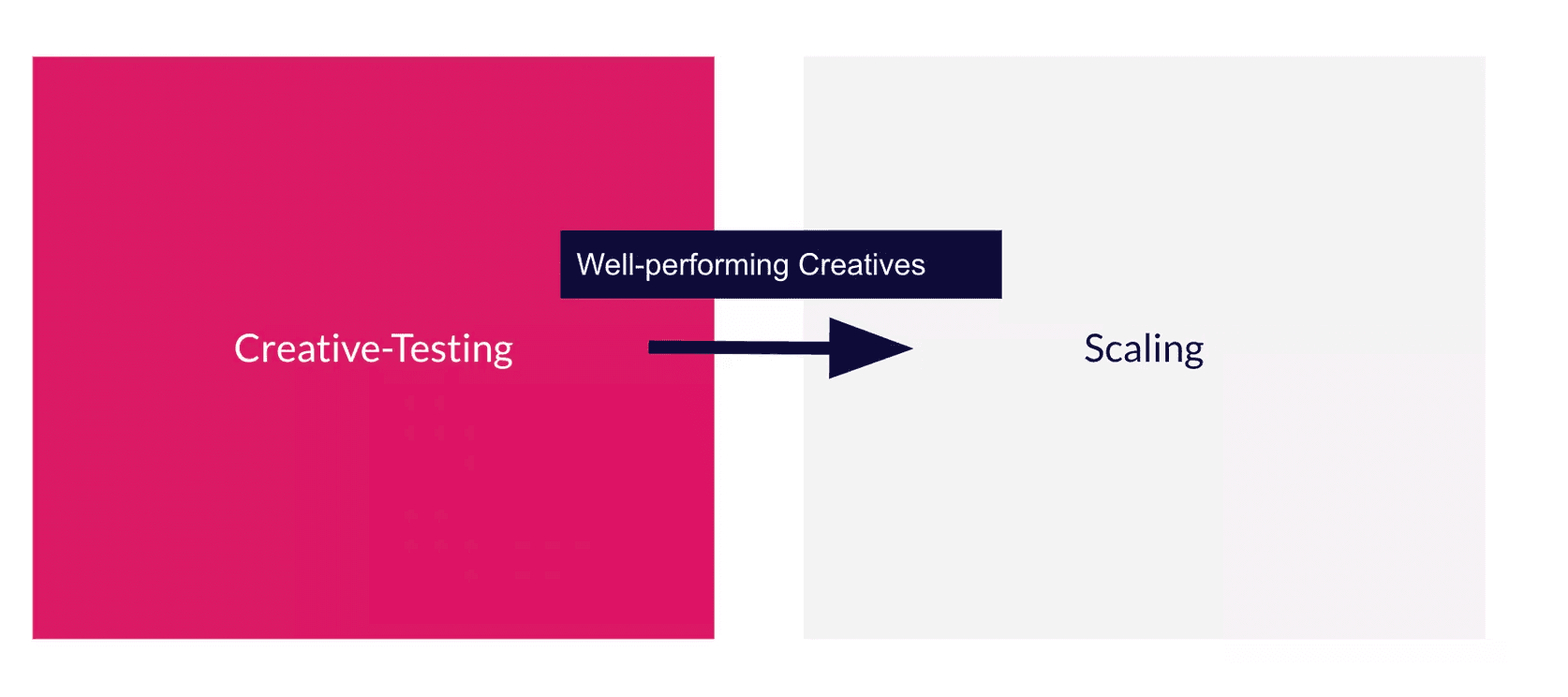 Creative Testing on Facebook Ads: Kitchn.io's guide
Another critical factor is inspiring action. A well-designed and engaging ad can grab people's attention and persuade them to take the desired action, such as making a purchase or visiting your website.
On the other hand, a poorly designed ad is unlikely to generate the results you're looking for, even if you choose the right objective for your ad campaign and use the best lookalike audience.
That's why it's so important to have a solid creative strategy and to regularly test your ad creative to ensure it's performing as well as possible.
To succeed with your Facebook ads in 2023, regularly produce and test ad creatives. Ideally, you should allocate 10-20% of your ad budget for creative testing. Start by testing different creative concepts and messages.
When you find an idea that works for you, test various Facebook ad formats, such as single video ads, Facebook image ads, collection ads, Instagram and Facebook stories, and reels. If you're running ads for e-commerce, dedicate a portion of your ad budget to testing product catalogs, as they can be an effective campaign type if you have multiple products targeting different audiences.
Finally, remember to test Facebook ad placements, especially if new ones are available. Early adopters can often extract value from being the first to test new placements.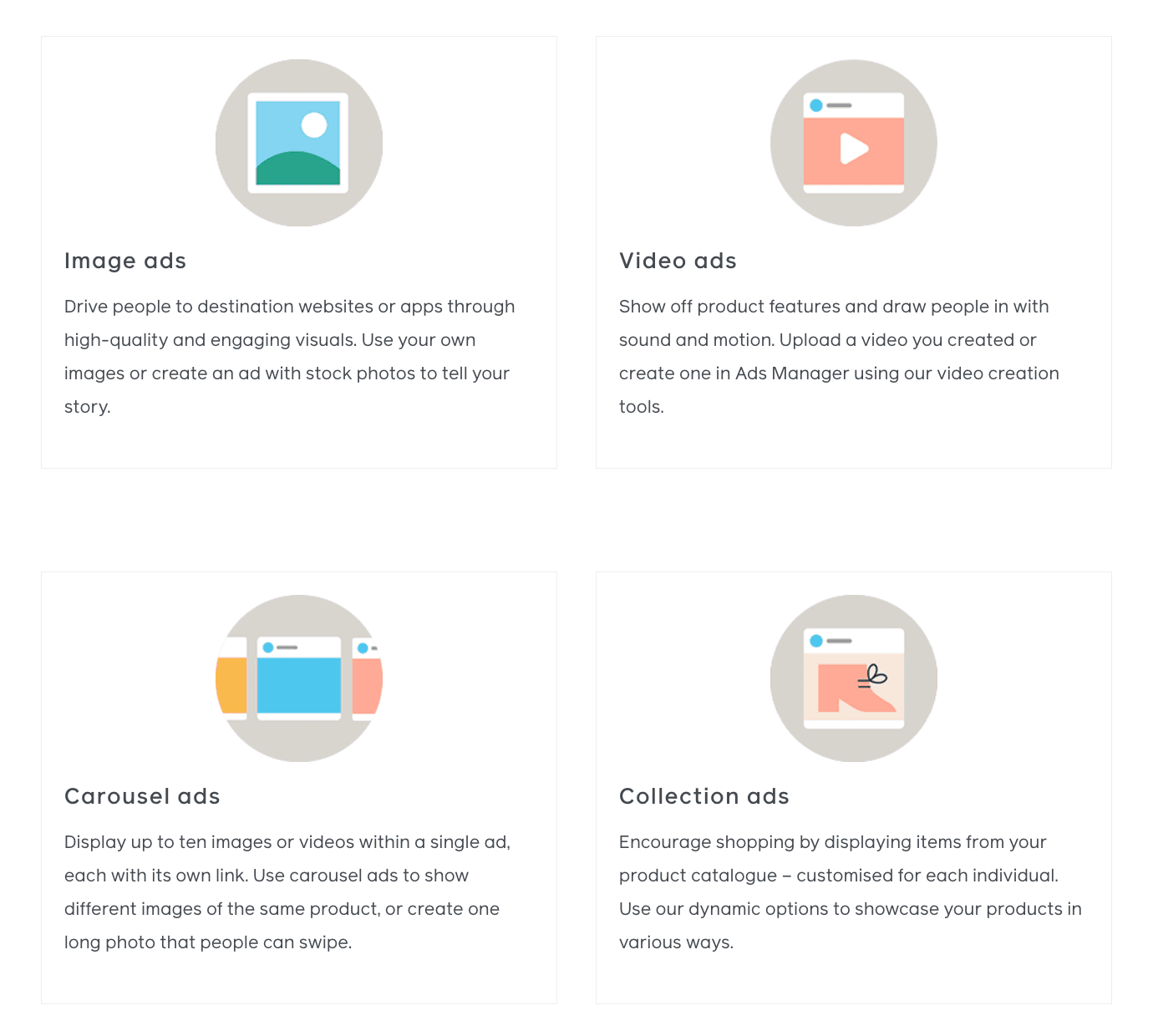 Facebook ads: available advertising formats
If you'd like to learn more about Facebook ads creative testing, you can check Kitchn.io's Creative Testing Blueprint. We have collected all our knowledge to assist you with building a system that regularly outputs winning ads for your Facebook ad campaigns.
Collaborate with content creators
In 2023, native content is expected to become even more popular, and incorporating it into your media strategy can significantly improve your Facebook ads.
Collaborating with creators and influencers who align with your brand and producing content together can be a highly effective approach. Facebook Ads Manager offers a range of tools to help you turn this into a successful Facebook ads strategy.
Branded content ads are a type of ad that allows advertisers to work with creators to expand the reach of their content. With branded content ads, creators can share a post or story produced for an advertiser with their organic audience and give a business partner permission to turn that content into an ad. This can help businesses reach a larger audience and increase the visibility of their brand.
Branded content ads are helpful for businesses looking to collaborate with influencers and other creators on Facebook to promote their products or services. By using branded content ads, companies can tap into the creator's audience and build brand awareness more organically and authentically.
Another way to collaborate with content creators is to run your ads via their Instagram or Facebook page. Such ads are native to a platform and produce better engagement rates. It doesn't mean you can only advertise to the influencer's following or only target people who interacted with their posts.
Use any lookalike or custom audience and the usual Facebook campaign objective. The only thing that changes is the Instagram or Facebook page. You can still run campaigns in the Ads manager and use your ad spend to pay for the Facebook ads.
Build a system to reduce ad operations
Spending hours creating Facebook video ads or manually copy-pasting data for weekly reporting is challenging and ineffective. Reducing the amount of time and effort required for Facebook ad operations is a common challenge for businesses of all sizes. Some processes should finally be fully automated in 2023! It will help you streamline your ad operations and save time and resources for tasks requiring human input.
One way to reduce ad operations is to automate data pulling and reporting. You can use any tool to collect data from your campaigns and put it in Google Sheets or Airtable. Those insights should always be available for the team, no matter what, to help make smarter and better-informed decisions.
This can save you the time and effort of manually pulling data and creating reports, and it can provide you with valuable insights into the performance of your campaigns.
Still adjusting budgets and bids manually? Automating campaign management can help you optimize your ad spend and improve the performance of your campaigns. And it's not because robots are better than humans.
Algorithms check your Facebook ads 24/7 and will spot all opportunities for scale. Using a tool that automatically monitors your campaigns and makes adjustments based on your goals and targets, you can ensure that your ads are always running at their best. This can help you maximize your return on investment and achieve your desired results.
Facebook ad creation is one of the most time-consuming processes in digital marketing. By automating Facebook ad creation, you will save time on more important topics, such as creative testing. Facebook ads offers excel templates to make it easy to create hundreds of ads quickly and easily, and others allow you to import them into Ads Manager from a CSV file.
If you are creating more than 25 ads per month and looking for an advanced solution, check Kitchn.io's bulk ad creation tool. It allows you to publish hundreds of ads from a spreadsheet and upload videos and images automatically as soon as designers drop them in Google Drive or Dropbox.

Kitchn.io's Bulk Ad Creation
Watch trends and adopt early
Watching and adapting to trends on Facebook ads and Instagram can be an effective way to ensure that your ad campaigns remain relevant and engaging.
In addition, by staying up-to-date with the changes on the platform, you can gain a better understanding of the platform's values and adopt them in your Facebook advertising strategy.
Pay attention to what updates or changes Meta is announcing. This can help you identify emerging trends and changes in user behavior that may impact your ad campaigns. You can test new products and learn from the tests of the other brands.
We recommend following industry news and insights, such as articles and reports from industry experts and influencers - stay ahead of the curve and be the first to take advantage of the new products.
Set up clear, measurable goals
While it sounds relatively simple and obvious, setting clear, measurable goals is essential for the success of any marketing campaign.
Especially when we talk about Facebook ads. With specific and achievable targets, it can be easier to determine if your efforts are paying off and to make necessary adjustments to improve your results.
With the recent changes to tracking changes, it got even harder to measure your true uplift when running paid social campaigns. Maybe Facebook doesn't have the amount and quality of data anymore that it used to have, so you have to understand how your Facebook data maps to your real business results. When deciding on the key metrics and reporting structure for Facebook ads, it's important to keep your business goals in mind.
When setting goals for your marketing campaign, identify the specific objective of the campaign and ensure the correct tracking setup. Once you have a clear goal, you can determine your target audience and the action you want them to take, such as making a purchase or visiting your website.
Ensure your meta pixel is set up correctly and track all possible events (compliant with the privacy policy, of course). This will help the Facebook ads algorithm learn who your actual customers are
Next, determine how you will measure ad campaign success. This could include tracking metrics such as cost per conversion, lead, ROAS, or the number of results. It's also essential to create specific and achievable targets for your campaign on a monthly or quarterly basis, such as increasing sales by 10% or decreasing costs by 15%.
Summary
Facebook's ad strategy for 2023 should focus on building a robust and timeless paid social system that emphasizes processes rather than trends. In 2022, Facebook saw significant changes, including updates to its algorithms, new ad formats such as Instagram Reels, and a shift towards a greater focus on creative strategy.
To succeed with Facebook ad strategy in 2023, focus on building a creative testing system that regularly outputs winning ads and drives traffic to your destination of choice. The more data you get from the creative tests, the easier it gets. Collaborate with influencers and content creators and try Facebook ads products such as branded content.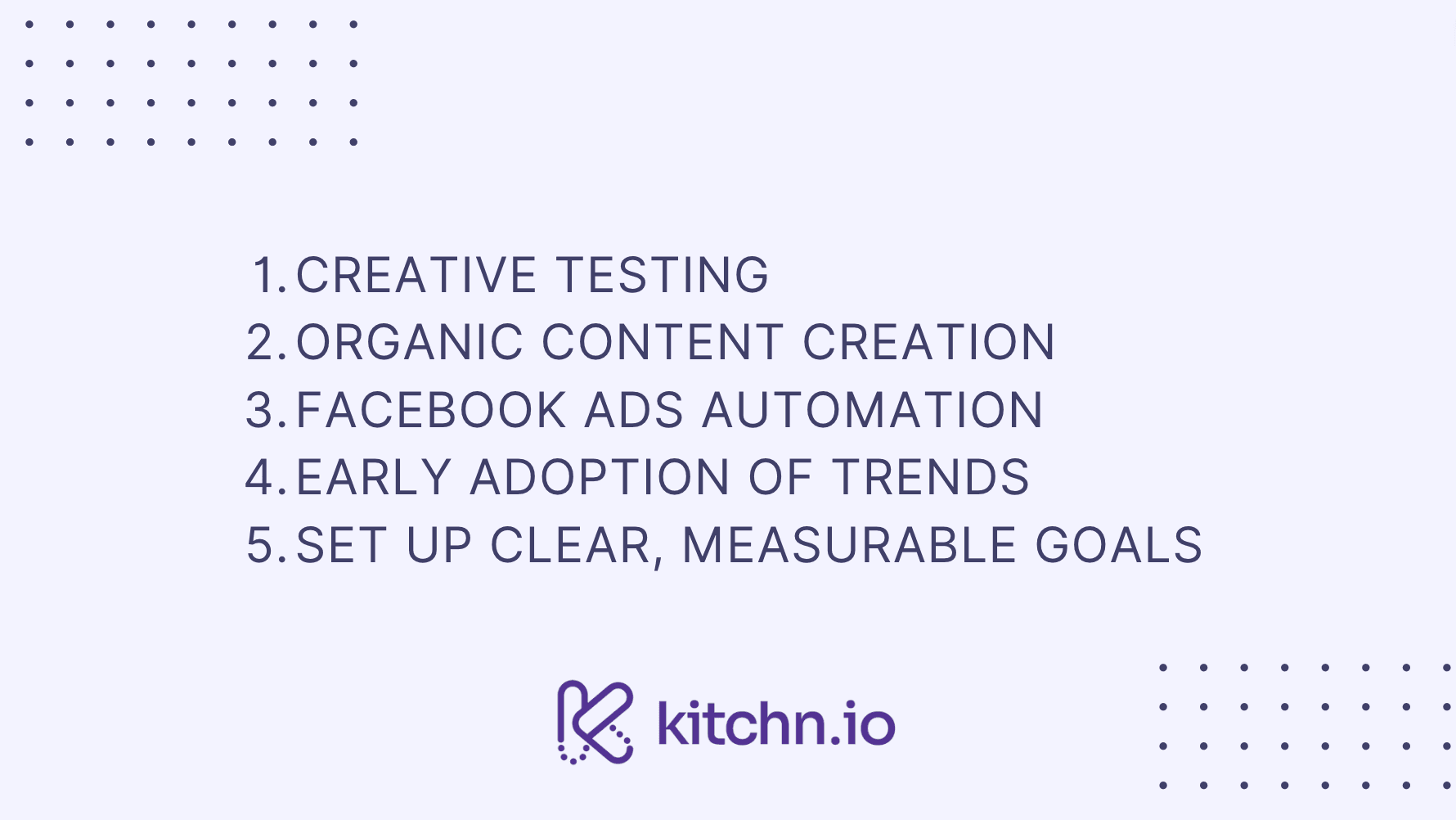 Facebook Ad strategy 2023: by Kitchn.io
At the same time, pay attention to your processes and automate all repetitive, monkey tasks that take much of your time. If you are looking for a solution to help you with Facebook ads automation, check out Kitchn.io's solution. Save time and automate most of your ad operations in 2023.